EPISODE 43 - Top 10 Quintessential Teen Movies of Elder Milennials
M&T work out what DOES make a quintessential 90's-2000's movie, is it a bet? A prom? A graduation? What makes the top 10 list? Oh, and they review new teen flick, Booksmart (2019)
3 years ago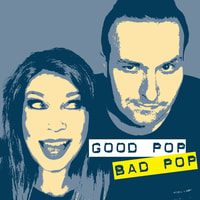 M & T reflect on the era that was teen movies in the 90's and early 2000's, a.k.a., the teen flicks of our youth! First, they work out what DOES make a quintessential teen movie from 1995-2005? Is there a prom? Is there a graduation? Is there a bet on some poor arty girl? Then we count it, including some honourable and dishonourable mentions before kicking off the top 10.
Do they hold up? What takes number 1? Which actor takes the cake for most teen movie appearances? How many times do they say 'quintessential'? A lot.
They also review a new 2019 teen flick, Booksmart!
What were your favourites from the 90's and naughties? Tell us!
Tweet Us: https://www.twitter.com/goodpop_badpop Facebook: https://www.facebook.com/goodpopbadpoppodcast Instagram: @goodpopbadpoppodcast
Find out more at https://good-pop-bad-pop.pinecast.co