Episode 36 - John Wick and the Very Bad No Good Fleabag Boys
M&T review John Wick Chapter 3: Parabellum, Emmy nominated BBC show Fleabag, and Amazon Prime's The Boys, defend their right to go to Disneyland, and chat the new Wayan's flick.
4 years ago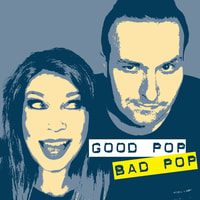 M & T dig in on their right to go to Disneyland, discuss the upcoming and likely outdated Marlon Wayan's flick, Sextuplets and rewatch Jay and Silent Bob Strike Back, did it hold up? They review the BBC 11 time Emmy nominated show, Fleabag and the new Amazon Prime show, The Boys - a superhero show with a bit of a twist and a fresh take on the era of superhero burnout we are living in. M gets into the amazing queer Netflix original film, Alex Strangelove. M & T watch the third installment in the John Wick universe, John Wick chapter 3: Parabellum (Parabens? Perineum? Parable? John Wick and the No Good Very Bad Day? M can't remember, its her first Jon Wick movie!). M comes up with a great new John Wick game, and poses the question, does M's dad look like John Wick? Look at our Twitter feed to have your say!
Tweet Us: https://www.twitter.com/GoodPop_BadPop Facebook Us: https://www.facebook.com/goodpopbadpoppodcast Instagram Us: @GoodPopBadPopPodcast