S1E40 - Episode 40 - The Disclosure of Big Mouth season 3! (SPOILERCAST)
M & T do a full breakdown of Big Mouth season 3 (Spoilers!!) including a small review of 1994 film, "Disclosure" (its topical, we promise!).
3 years ago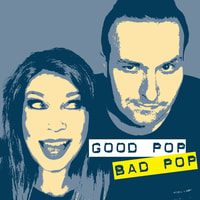 EPISODE 40! -- THIS EPISODE CONTAINS SPOILERS FOR SEASON 3 OF BIG MOUTH--
M & T break down their highlights of each episode of season 3 of Big Mouth. They chat the important social and psychos-xual topics throughout each character arc and episode including issues like academic pressure, female pleasure, navigating sexuality, stigma for bisexual men, toxic masculinity, and phone addiction.
Oh, and a great review of the 1994 flick, "Disclosure" starring Demi Moore and Michael Douglas, so you can get a full appreciation of the musical episode "Disclosure the Movie: The Musical!"
Tweet Us: https://www.twitter.com/GoodPop_BadPop Facebook Us: https://www.facebook.com/goodpopbadpoppodcast Instagram: @goodpopbadpoppodcast
Find out more at https://good-pop-bad-pop.pinecast.co